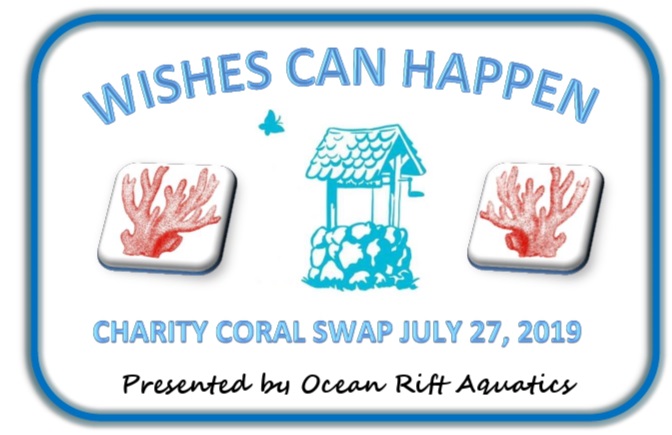 Welcome to the 2019 Wishes Can Happen Charity Coral Swap registration page! Last year we raised $5000 during this event and we are excited to once again host this swap to benefit children in our local community!
We have scaled back the vendor list this year but expect to have an increase in attendance over last year's show. With a few less vendors and more hobbyists through the doors it means more people shopping your table!
Pre show set up will begin by 1030pm Friday July 26th. There is unfortunately an event earlier that evening that keeps us from setting up earlier. Doors will be open at 8am the day of the show for vendors to continue setting up.
The event center has its own private food service and asks that no outside food or drink be on the floor once the show starts. The concessions stand is cash only so please plan accordingly. There will be an ATM on site for anyone that runs short on cash.
ReefTrader listings will be opening up in early June!
Vendor table sizes and pricing
8' full table with power $100

2nd 8' table only $70
Tables are a standard 8' folding table. Please plan your displays accordingly if setting up a tank. If you have your own tables you would prefer to use, please let us know and we will plan that out with you. Table covers will be provided or you are free to use your own. Banners may be able to be hung on walls behind your display depending on hook placements. No metal halide or VHO lighting please.
All vendors are required to make a donation to the Omega One Raffle Island of $50 value or more. These items can by live or dry goods and may be included in true raffle or on the Buy It Now table where all money will go directly to Wishes Can Happen!
Click the "Donate" button to register! Enter the amount for your respective table and add your seller name to the comments section. We will contact you after registration with more information!
Thank you!